Traditions are important. They allow us to come together, create memories, and give us a chance for reflection or pause. We have a few annual traditions at Good Earth, but one holds a special place in our hearts. Every year, we shop as a team for 30 underprivileged children from our community. For many families, it is a struggle just to make ends meet and having extra funds to celebrate is simply not possible. For some, this is not the most wonderful time of year. We try to deliver a little happiness and holiday spirit for these kids by providing them gifts to share with their families.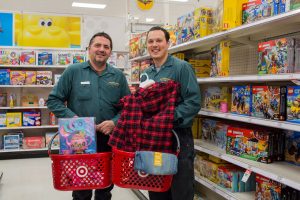 Each team member adopts a child, ranging from infant to teenagers, and gets to choose an outfit and toys as gifts. We spend the afternoon taking over a local retail store and filling shopping carts. All the gifts are then wrapped and given to the families for Christmas morning. This is what we do.
It's all about providing some cheer and putting smiles on little faces. No one deserves to be unhappy during this time of year. The holiday season can be filled with so many activities with jam-packed schedules, but we set aside time for others, to give without expecting praise, and to make sure those around you are taken care of. We are blessed with this opportunity and will continue to provide these gifts for as long as we can. It's a good tradition.