We are 100% QualityPro Certified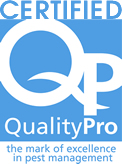 Good Earth Pest Company
 has earned the certification of 
QualityPro
 – the mark of excellence in pest management – from the 
National Pest Management Association
. 
Quality Pro
 companies have met qualifications built around four key principles: business operations, consumer relations, 
environmental stewardship
, and technician training. These qualifications have been met by only a small percentage of pest control companies throughout the United States. 
Good Earth Pest Company
 is one of the first companies based in Oregon to be certified 
Quality Pro
. This is 
not
 an individual designation, but a testimony to the high level of professionalism that is found throughout 
Good Earth Pest Company.
More than anything, 
Quality
 is an attitude of personal commitment for achieving the highest level of service possible.
The technicians do a great job. Knocks to make sure we are here and dogs are safe before he does the job. Very professional.
Larry Massaglia
via Google
Prompt, friendly, very good at what they do. I would recommend them to anyone needing pest control services.
Alan Van Dyke
via Facebook
I wouldn't think of calling anyone else! Amazing customer service!!!!!!
Laura Schell
via Facebook
Good Earth is reliable, affordable, and careful about their work. Their staff is consistently friendly and professional. We're happy.
Owen Dell
via Google
This business goes above and beyond customer service. Each employee brings something to the table. They are easy to communicate with and I recommend them to you.
Michelle C
via Yelp
Never seen a rodent in my house and don't want to. I credit Good Earth for keeping the little critters OUT! Best company EVER!!!
Rebecca Butler
via Google
Besides keeping our home free of carpenter ants and rats, the office staff is always super-friendly and helpful when I contact them.
Don Hall
via Facebook
First visit. Joe was on time, very personable and took the lead on what we needed. Very please to find this service.
Nancy Dixon
via Google
Good Earth Core Values
These values are the guide to every decision we make.
Going above and beyond expectations for our clients.
Accountability and integrity in everything we do.
Safety for the environment, our clients, and ourselves.
The Good Earth Family: Work as a team and always treat each other with respect and support.